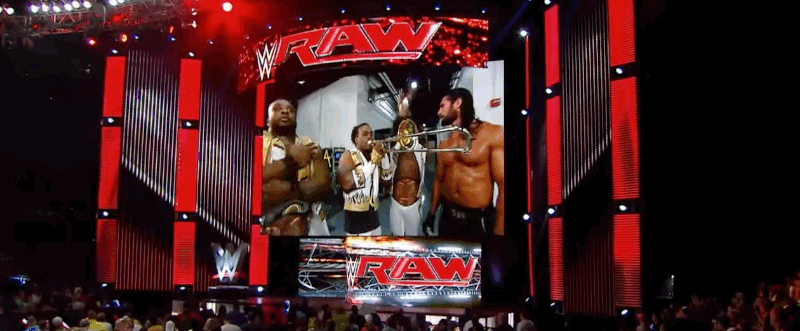 Xavier Woods, leader of the endlessly entertaining WWE tag team act The New Day, added two Final Fantasy Easter Eggs to last night's episode of Monday Night Raw. He played the series' signature victory fanfare on a trombone during a backstage segment and then, awesomely, during the main event while his partner was fighting John Cena.
You can see and hear the first one of those at about 30 seconds into this clip.
If you need some back-story, The New Day are the current WWE tag team champions. They're a complicated but terrific act for off- and on-screen reasons. Off-screen, they were three talented solo wrestlers who were lost in the shuffle, got put together in what originally seemed to be scripted to be a good guy gospel-singer trio, got rightfully booed by WWE crowds for having a corny gimmick, started acting like bad guys and started mixing more and more fun inside jokes and silliness to their routine, all while wrestling athletic, entertaining matches and turning a lot of the crowd back to their side. On-screen, well, they're goofball bad guys who think they're good guys. You're seeing them interact with WWE champion Seth Rollins who is grumpy about having to wrestle twice in one night.
Woods sometimes wrestles but always talks trash. His taunts were entertaining, but his new trombone stuff is on another level. He'll play while the other New Day guys wrestle. And that leads us to this moment from the main event of last night's Raw, which I had to film off my TV, because WWE sadly edited it out of their YouTube clip of the match.
Get that musical reference? If you don't play Final Fantasy, this should help:
Woods' riff was no coincidence. The guy is a huge gamer and has his own video game YouTube channel called Up Up Down Down. He's even been in other gaming-themed videos with current WWE champion Seth Rollins besides the one up top. Here they are on Woods' channel playing Turtles In Time.
Source : Kotaku